We all recognize that the recession has made things extremely difficult. If you have a job, no matter how annoying and horrible you find it on a daily basis, be grateful, because there are so many of us out there who would very much like to employed who simply cannot find work. There is an average of 6 people applying for every one job out there right now, and something like 80% of them are overqualified for the positions they are attempting to fill. Which is really just a long-winded way of saying that I graduated with my MA three months ago and can't even find work as a glorified filing clerk. But rather than waste this time sitting on my backside, contemplating my navel, I have made a list (the
Shit to Get Done Before I Find a Job
list). This list is as follows:
1)
Lay the flooring in my parents' upstairs guest bedroom.
As some of you may know, my parents have been constructing their house since roughly the time of my birth. It is unlikely to ever be completed, as every time the end approaches, my father either ceases all efforts to reach it or decides another addition is in order. In an attempt to prevent this by slipping in some completed projects under his nose, I am putting down the beautiful Brazilian hardwood flooring upstairs. It's not particularly difficult, just time consuming, and I hope to have it completed by next weekend.
2)
Make my own entertainment center
. I've built furniture in the past – the bookshelf bed that was at my first apartment, the shelves that house my cds and all my language books in my room at my parents' – but never anything as involved as an entertainment center. Since I'm at home, where all the tools are and where my daddy (who has the knowledge and skills) is, I might as well use this opportunity to learn to make myself a piece of furniture that meets my several and slightly odd criteria. These criteria include not only dimensions and design elements, but the all important requirement of weight. If the answer to the question "Can I move it (or at least lift one end of it) by myself?" is a resounding no, then I've done something wrong. Having lived with Susie, whose entertainment center weighed roughly the equivalent of the combined weight of the entire Chinese population, I've learned that I never want to have a piece of furniture that people ask if you still own before they agree to help you move. So, as long as I can hold my father back from his natural tendency to build furniture for giants, I will hopefully end up with an entertainment center that can hold my TV, DVD player, receiver, and record player, as well as all my DVDs, and still be light enough that I can – with some maneuvering – move it around my apartment by myself.
3)
Make a rag rug
. For some unfathomable reason (actually, it's pretty fathomable. I blame the large display of DIY books at Barnes and Noble that included the
Better Homes and Gardens New Cottage Styl
e
), I have become possessed of the need to make rag rugs. I had already intended to make one akin to
Kay and Ann
's Tailgate Rag Rug, for a bathmat, so it would have to be blue and turquoise to match all my bathroom fixtures. But somehow, when I started cutting my pretty blue sheets up into strips (which, by the way, is hell. You will never truly understand just how big a full-sized sheet is until you attempt to cut it into ½ strips.), I began to realize that I wasn't just imagining a single rag rug, but one in the bathroom and one in the kitchen. So, as frequently seems to happen, my project list has multiplied yet again, as I now have to make two rag rugs – the blue and crème one (for a bathmat), and a red and crème one (for the kitchen). And now I'm thinking that I may make another one of solely blue rags as a doormat for outside the back door. But I haven't started knitting yet, so I don't know. I'm still stuck cutting strips.
4)
Make stuff for my etsy
. As my penchant is for knitting small,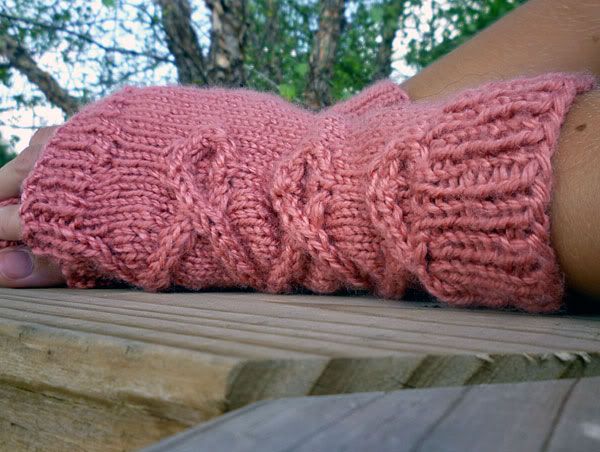 relatively quickly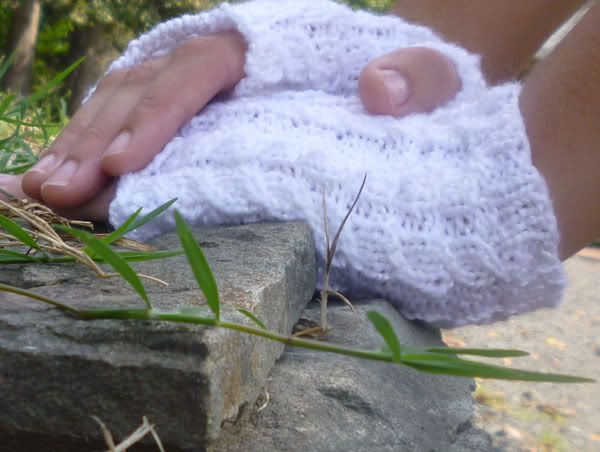 completeable things, it makes some measure of sense to attempt to sell them to other people, because, let's face it, how many arm-warmers does one person really need? So I'm trying my hand at designing and coming up with some pretty patterns, and then I'm hopeful people will give me money for them. If not, no great loss – I recognize that there's a ridiculously large quantity of arm-warmers on etsy, and it's not like I won't wear them myself. But it's a shot at making enough cash on the side to pay for my yarn habit.
5)
Finish painting all the Christmas decorations from years past.
Once upon a time, many, many years ago, I painted resin and acrylic ornaments and statues as a hobby and to keep myself off the mean streets. Then high school and college happened, and I haven't so much as looked at my collection of half-painted Santas, angels, et al, in years. But as the studio is rapidly being taken over by uncompleted projects of my mother's doing (or not-doing, in point of fact), I think it only right that I should get some of my stuff out of her way (not to mention gain the moral high ground for arguments about stash enhancement and the developing new artistic interests). So, I have begun to paint again, and have finished my 3D nativity scene, a puppy ornament, and begun work on an angel.
6)
Pictures
. I don't love clutter. Clutter makes me antsy. So while I loved living with Susie, I was disinclined to put up my own artwork and photographs on the walls in our apartment because of the sheer volume of stuff already up there. The minimalist in me would have been overwhelmed by anything more. But now that I will be living on my own, every wall in my home will be up for grabs. In preparation for this, I have begun sorting through my pictures and printing out hi-def copies of the ones I love best to adorn my walls. I have also been busy painting and repairing old frames so that they are ready when the time comes.
What I'm listening to: "It Was a Very Good Year" by Robbie Williams and Frank Sinatra